Today I am going to write some small reviews of the best DIY miniature dollhouse kits on the market and compare them. Some are still produced, others became vintage or collector's items.
So if you quickly would like to know what kinds and brands of kits there are on the market still, then this would be an oversight of the top ones (in my opinion).
( I have written several extended reviews on kits before, please use the search button on my site if you are looking for something specific, or click on the "full review buttons" below)
If you are on a cellphone, please scroll to the right in this table below to see the prices!

Our 7 Favorite DIY Miniature Dollhouse Kits On The Market.
So, here's an overview of these 7 DIY miniature dollhouse kits. This way, if you are in a hurry, you don't need to plow through my whole website 😉

#1: Robotime/Rolife.
Here's a video of one of the kits from Robotime that I made myself.
Brand name
Robotime/Rolife
Scale
1:24

Pro's

– Beautiful designs
– Quite sturdy
– Affordable (beware that Covid19
could have raised prices)

Contra's

– Sometimes manuals aren't clear
or are not in English
– it's hard to find assistance
– shipping can take a while
Our rating
9,1/10
The miniature kits from Robotime are one of my top favorites, at the moment. And as you could see in the video above, I have already made a few of my own and I have a lot more boxes waiting for me to assemble.
When I see a discount somewhere or on black Friday etc, I just can't help myself and I need to buy 😉


#2: Cutebee Miniature kits.
Here are 2 pictures of a Cutebee-kit, but there are way more different styles, sizes, and shapes available.
Brand name
Cutebee.
Scale
Most of them are on a scale of 1:24
but there are also smaller scales (click on
the red button below for full insight).

Pro's

– cheaper than number 1
– very different designs, "cute" indeed
– I love all the choices in kits, including the little
canned boxes. (Huge collection!)
(Click on the red button below for more)

Contra's

– the manuals can be very hard to understand
– a bit lower quality
– more people are struggling harder to craft these

Our rating
8,9/10
It seems that these miniature kits from Cutebee are quite cheap, but not so easy to make and have a little less quality in general. But still, people show very pretty projects on Facebook groups or Instagram-pages.
#3: Greenleaf DIY Miniature Dollhouse Kits.

Greenleaf is mostly known for its big Colonial-style dollhouse kits. It is one of the oldest producers of these kits in the USA. For a more extended overview of these kits, please click on the red button below!

Brand Name
Greenleaf.
Scale
Either in "full scale" (meaning 1-inch-scale or 1:12-scale),
or "half-scale" ( which means on 1:24-scale).

Pro's

– easy instructions/good manual
– affordable prices for a decent quality
– the recent designs can appeal to beginners as well as more experienced dollhouse builders

Contra's

– some of the furniture kits seem to have not-so-good quality wood
– if you are not happy with a kit, you need to pay to send it back
Our Rating
8,6
The choice of a particular dollhouse style is rather limited with these kits, but the ones available are surely very pretty.
They have been on the American market for a very long time and they have established their brand even more so today.
#4: Hongda/Hoomeda
Brand
Hongda and Hoomeda
Scale
1:24

Pro's

– These are probably the most affordable on the market I would think
– These kits are made faster than the ones from Robotime,
for example
– expanded choice in size, from room boxes to big dollhouses

Contra's

– manuals are in Chinese
– depending on your personal taste: the design of these
kits can look less pretty than the other brands
( that's just my opinion )
Our ratings
8,3
Although Hongda and Hoomeda are not the same brands, I have put these 2 together in one blog post (see red button below), just because they look alike a lot. And honestly, making a separate blog post for Hoomeda only would be very short lol 🙂

#5: The House Of Miniatures
Brand
The House of Miniatures
Scale
1:12

Pro's

– they are not complicated to put together
– very good quality with decent wood

Contra's

– they are not produced anymore, what a shame:-)
– they are vintage, which can also mean that some
of the kits can be hard to find for a reasonable price
Our Ratings
9,2/10
Although I haven't bought any of these dollhouse miniature furniture kits before, I see nothing but good opinions on these vintage items. Hence the good review here and in my full review below. (click on the red button below for a complete information article).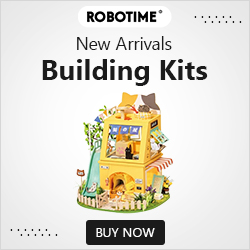 #6: Rylai Dollhouse Kits
Brand
Rylai
Scale
1:24

Pro's

– Lots of times these kits include music boxes, that is
different from the others
– Apart from the manual not being in English, putting
these together don't seem too hard
– Beautiful and original kits

Contra's

– There is no English manual included
– batteries and glue are not included
– lots of people seem to have issues with the lights
Our Ratings
9,1/10

Not so much information is actually available for this brand of miniature kits.
This is the reason why I do not have a full review in a separate blog post, but I still wanted to mention this brand, because they do have some absolutely gorgeous kits!
These seem to be even smaller than the ones from Robotime/Rolife, although they claim to be on the same scale of 1:24!
So although I haven't written a full review on this brand, I do have a few hints for you:
None are found on AliExpress.
#7: Billy's Miniature kits.

Brand
Billy
Scale
1:24

Pro's

– People seem to have a lot of fun building these!
– Beautiful and original kits
– If you love Japanese themed kits, you should
buy from this brand!
– although the manual isn't in English, the pictures
seem quite clear

Contra's

– There is no English manual included, but Japanese
– Not suited for beginners, as the manual isn't in English
– They are quite expensive for their size
Our Ratings
8,5/10

So, as I mentioned in the table above, these Japanese dollhouse kits are quite expensive seeing their size.
But people tend to love them though, thinking that they are very cute.
Hence why I gave this brand only 8,5/10, because of the price.
Other tips? See miniature kit number 6 above 😉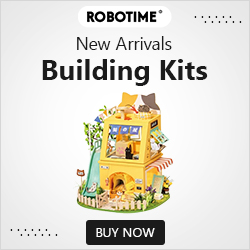 Other Miniature Kits
When I Google the term "the best miniature kits", I sometimes see other websites referring to other "Brands" of miniature kits, like "Flever".
Well, I can tell you: don't be fooled, because "Flever", for example, is not an actual brand, but a seller/distributor on Amazon.
Have a look at their store on Amazon.
It contains, for example, this cute greenhouse, which is actually from the brand called Cutebee (and you can see the full review in the link above)!

I know, it is tricky, it took me some time to figure this out as well 😉
A list of all the names of all the brands of dollhouse kits.

I have included another list that I found online on all the names that have been found so far from the brands mentioned earlier. This can be expanded in time.

Furthermore, I have divided all of these miniature kits by theme:
This blog post contains affiliate links and images from Amazon and others. This has no effect whatsoever on the price!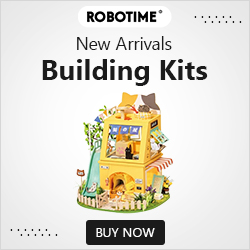 My Final Conclusion.
I hope that I have helped you out (if you are in a hurry), in deciding which DIY miniature dollhouse kits you would like to start out with, or if you are looking for something else than the ones you are used to?
By now, I have written an extensive blog post on each and every one of these, but if you would like to add something, please leave a comment below or join me on my Facebook group. 😉
I would also appreciate it very much if you share my blog post with your friends!
I wish you happy crafting!
Best regards,
Lizzy