Time to show off my latest personal work: a Robotime DIY miniature house kit called Simon's Coffee that I totally hacked (almost completely), and turned into a Cats Café. 🙂
I have been (over)thinking about this one so much, that it took me a while to get it finished, but I must say: I love the result, and I hope that you do too 😉
A little reminder first of what "hacking a miniature kit", aka "kitbashing", means.
updated 16/08/23
As an Amazon and Etsy associate, I earn from purchases, with no extra costs for you, however.
My Previous Kits From Robotime aka Rolife
Also, you might have seen the previous kits from Robotime that I made before, if not, here's a little list:
The first and hardest one so far, in my opinion, was "Cathy's Flowerhouse".

My second one was "Millers Garden", aside from a few things, this wasn't as hard as the first one.

The third one I made and the first one that I started "bashing", was "Sams Study". Now that I got the hang of the scale in 1:24, I got more confident in changing things.
So now that I have "mastered" this scale (I'm used to working on a scale of 1:12), I got a stronger will to make these kits more and more my own thing and to my own taste, with the final result further in this blog post 😉

A Detailed Review Of a DIY miniature house called Simon's Coffee from Robotime
Here are the DIY miniature house Simons Coffee instructions PDF
Product name

:
Robotime (aka Rolife) Miniature Kit DIY called "Simons Coffee"
Place(s) to buy:
On Amazon,
On AliExpress (can take longer to ship)
On Etsy (free shipping)
Straight from the manufacturer Robotime
(you can compare prices)
Owners:
Robotime, a little more info:
Robotime was founded in 2007 and specializes in educational toys for children and adults. They were the first to offer worldwide puzzles in 3D Assemblage Technologie and have more than 400 DIY Wooden model puzzle pieces.
This allows children and adults (most kits are suited only for ages 14+ though) to assemble their own music boxes/dollhouses/miniature scenes, alone or with a parent.
To make it even more fun, Robotime also has DIY wooden model kits with LED lights and music. Children ànd adults will have hours of fun with these great DIY kits!
Warranty:
On Amazon: This item can be returned in its original condition for a full refund or replacement within 30 days of receipt. For the warranty, you need to contact the seller.
On AliExpress: 75-day buyer protection
On Etsy: Returns and exchanges accepted
On Robotime itself: 30-day return policy
Product Overview:
This particular miniature kit from Robotime/Rolife represents a coffee bar, with a counter, 4 little chairs, miniature plants, a little table, all kinds of bags and boxes (coffee-related), all kinds of coffee pots, etc.
Also, there is a little piano included (which I will use for another kit someday, because I made some stuff for cats, as you will see further down in this article).
Content:
To assemble:
wooden pieces
cardboard/paper cuts
paint (white), and a paintbrush
glue (2 kinds)
a tweezer
batteries and battery holder (depending on the country you live in, these could be missing)
an instruction manual (if not in English, you can download the PDF here)
wires, fabrics,…
tiny LED lights
You have to provide yourself with:
a ruler,
scissors,
a pencil,
extra/other glue can be useful
Sometimes you run out on the glue that they provide, so getting some extra glue would come in handy!
I have recently found out that you can buy the same type of glue, if you run out on it or it is not in the package, on Amazon.
TIP 4: For this project, I have also used my magnifying lamp a few times, especially for attaching the electrical wires to the right spot.

TIP 5: If you need to glue wires together, it has to be done quickly or they will not stick.
To solve this problem, I have learned to use "Fast grab Tacky Glue", instead of superglue, which can be super annoying in gluing your fingers together instantly.

( Last updated on 2022-02-21 / Affiliate links / One Image from Amazon Product Advertising API , the rest are my own images)

Robotime Support.

You can find a lot of videos from Robotimes miniature kits on YouTube. You could contact them through Facebook or email in case of problems.
I am getting a lot of questions on how to contact them: this is their official email support: Jack.deng@robotime.com. (people seem to be getting the most help for missing pieces etc through this mail ).
Missing or broken parts? Now Robotime replaces them for free!

You just need to pay for the shipping costs and it doesn't matter where you bought the miniature kit.

Follow THIS LINK to get replacements.


The good and the bad.
The Good.
Very affordable DIY miniature kit


These kits from Robotime have good quality in general


This one called Simons Coffee is quite easy to do. You might run into some issues, as usual, with the wirework (for the little chairs) or LED lights.

If you use fast grab Tacky glue, you should be ok.


Is getting a lot of 5-star reviews, is a very popular product


The Bad.
Sometimes the scale was not at all 1:24, as you can read below on 'my journey'.

For example, I used other coffee cups and got my own cutlery. (those paper-cut knives were way too big!)


the white paint included is really not a good brand


the glue included can be annoying because of the sticky threads
Extras:

Dustcovers are very handy if you want to make several kits! You can buy them here.
I Did It my way , My Story Behind This Simons Coffee DIY kit

You might know this song of the mighty Frank Sinatra, and it sure got stuck in my head while crafting this miniature kit haha.
What I have done is: change "Simons coffee" into "The Black Cat Café".
You can see the result in my Youtube video:


No, not all the cats in this "Black cat Café" are black, but there's a reason why!
( my gosh, the comments I got in Facebook groups showing my first kitty in the Café, which is white, lol! ).
See the picture below, where you can see a white cat on the counter through the front door.


But first, let me show you in the picture below what "Simon's Coffee" looked like, originally:

Mind you: there is absolutely nothing wrong with the original version, at all. I just had my version inside my head for such a long time, and this kit was absolutely perfect as a base to do this!
So why did I "bash" this one? Well, the story behind this, is that I have heard about a few "cat cafés" in my country, which are at the same time places where you can adopt cats or kittens.
There, you get to meet the cuties in their natural environment (and really shy cats can socialize with humans), before you decide which one to adopt. All of that while sipping your coffee :-).
And I believe that this is such a fantastic way to get cats adopted, that I wanted to turn this into a miniature piece!

What Did I Change about Robotimes Simons Coffee, Step By Step?

Of course, you need to first follow the instructions in the manual, but as I got further, I tended to change a lot of things. Here's what I did:
First of all, I found images on Google to put together the wallpaper. What you need to do is Google 'black cats prints', go to the images section, and print the images that you like.

Then it is a matter of cutting and gluing all the bits and pieces together against the wall. (it can be quite tricky to match the drawings)

The kit includes a print to glue on the bar, but I changed that one as well with one of the black cat prints found on Google. You can resize these, I used the free software called 'Paint' for this.

I changed most of the colors of the wooden parts. Instead of a blue front and a brown roof, I painted all of these black.

As for most of the furniture, but with a touch of white on top, or it would be way too black and dark.

And then I added a few red accents, like the roses, the red pillows, and the curtains.
The free-standing pavement sign included in the kit has a print as well, but I changed it into this (see picture below).

And drew some extra little things on it, that was a challenge because I really can not draw haha.

The text on it was done just using Words.

Instead of using the paper cutlery that I was supposed to make, I used my own plastic cutlery that I still had, because they looked way better in scale.

To be honest, the paper ones from the kit looked huge, so I didn't continue making them.


If you can look closely, you can see 2 little spoons on the coffee cups and more cutlery in the back against the wall in the pot.

Instead of assembling the piano ( I will keep that piece for another miniature kit ), I have crafted a scratching post.

What I used is balsawood for the floors and the little box. Little pieces of willow twigs for the poles, and they are wrapped around with the red wire, as to make them "scratchable" for cats.

Instead of using papercuts to make ivy plants to add beside the front door, I made these hollyhocks.

Guess what I made these off? I used dade sprigs!

I just painted the sprigs greenish and the parts where the dades hang red, so they look like little red flowers! Don't they look real?

I did the same with one of my fairy houses, actually.

A front view with the pavement sign, the hollyhocks in front, and 2 cat statues on top 😉

I'm not sure if you can see this ( it's hard to photograph something so small from up close ), but I found a little poster that says "black cat' from another miniature kit, and so I glued it on the window in front.

And then finally, of course, I added some cats, about 7 in total.

Ohw, I almost forgot. There are no curtains included in this miniature kit, so the red ones (see-through), I also made myself!

I still had a piece of fabric like that, plus the ribbons, so I glued them onto a hard piece of black wire. I bent the wire and glued that to the wall. And done!

Here are some oversight pictures, with the lights on.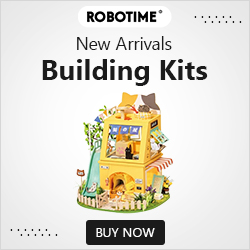 My Final Conclusion
I didn't think that I would ever love to "bash" a miniature kit this much as I did with "Simons Coffee' from Robotime.
If you don't like to change a miniature kit (yet), this one is a good starter kit as well, because you get to make all the different things that you get in these types of kits.
What I mean is: you don't get too many plants/flowers, too many books, etc., at once, as you get in Cathy's flower house or Sam's study.
But a little bit of everything, so that you can find out which parts you like to make. (if you don't like to make plants and flowers, then don't buy Cathy's flower house lol !).
Typing this blog post took longer than I thought, but if you still have questions or remarks, feel free to chat in the comment section below, or on my social media channels.
Or why not share your work on my Facebook group?
I wish you happy crafting!
Kind regards,
Lizzy
Hi everyone!
My name is Lizzy, and I am an amateur miniaturist obsessed with everything in the dollhouse and miniature world, ever since I was a teenager.
So far, I have created 2 dollhouse projects, a backyard shed and a miniature treehouse, tons of DIY dollhouse kits, and "hacked" some.
I also created a fairy garden, and lots of small and simple miniature projects on my YouTube channel. (mostly made from trash or everyday items).
I love to write as well about all things happening in the miniature world, hence the reason why I created this blog!
I wish you happy reading and crafting!
Lizzy