Buckle up, because we are going for a long ride around the world to do some research on miniature dollhouse kits.
I never even knew there were so many different dollhouse kits until l I looked them up on Amazon, AliExpress, Google, Banggood, and last but not least: Etsy!
I have found 11 different brands and companies selling these, so let's dive straight into things.
Check out the 7 best DIY miniature kits here on the market.
This blog post contains affiliate links from Amazon, no extra charges for you.
1. Robotime
What can I say? This is 1 of the many companies out there for miniature dollhouse kits, but I looooove it!
( GUYS! I know not a lot of men don't like dollhouses or miniature world (although I know some pretty good miniature artists out there, especially wooden furniture)!
But if you are into model building, there are some pretty nice 'male' things out there! ( I do not want to shame the women though, because I sure would like to make some of these 😉 ) :
Look at the zeppelin, the rover, the robots, my hands are itching! I also think they look fantastic for children or teenagers to do, don't you? )
These are all to be assembled together without glue.
Robotime also has 3D puzzles, robotic dinosaurs, and even DIY music boxes, everything looks very cute to me.
What we want here though, I presume when you are reading this blog post, are the dollhouse kits.
Well, it is my birthday soon and when the family asks what I would like to have, I am definitely going to ask for one of the dollhouse kits.
I have some room left in my hallway, and I want to plan a 'miniature' street. (where it will be safe from my 4 cats 😉 ).
I would like to start out with what looks the most amazing to me, which is the " DIY Dollhouse Kit-Cathy's Flower House with LED light DG104 ". I will surely keep you informed on where I ordered it, how the quality is etc!
UPDATE: I finished the greenhouse, take a look here! Plus a little video of it on my Youtube channel:
The scale of these dollhouse miniature kits is 1:24. Not suited for children, unless accompanied by adults! Batteries included.
Materials: wood, cloth, paper, and metal.
2. Bohs furniture
Bohs is a company that sells all kinds of toys and I found 1 miniature furniture set kit.
It is an assortment of 34 dollhouse furniture set in wood, like a 3D puzzle. Instructions should be included and the pieces are glued together.
The scale is slightly smaller than 1:12, so keep that in mind if you would use these in your (self-made) dollhouse.
Recommended age: 6 years and up.
3. lovelnUSA
Check out the 7 best DIY miniature kits here on the market.
Researching this company, it looks like it is a company that makes all kinds of things for crafting, like scrapbooking.
The only miniature furniture I found is this one, so it doesn't look like they are specialized in dollhouse kits, but maybe it is worth mentioning. This set is made from balsa wood. Glue or cutting is mostly not needed, but some parts do need some glue (not included).
The scale is 1:20, so it doesn't fit in easily with other miniatures or dollhouse kits.
4. Rolife

versus Robotime?
Honestly? I don't get it. The dollhouse miniature kits from this company, look the same to me as the first one that I described: Robotime. Right?
Just a few of them are different. Confusing? Yes! If anyone knows if it is the same company, please let me know!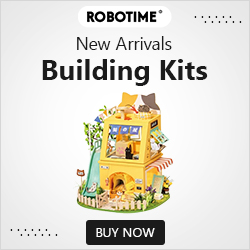 Edit: Someone on my Facebook group told me that both Robotime and Rolife are mentioned on the miniature kit that she bought, so ' Rolife ' could be a part of Robotime, like a series.
Anyway, it looks like Rolife IS from Robotime! Sorry for the confusion!
Here's a picture of 'Dora's loft' from Rolife :
And, in the meantime, I made another kit from Rolife, called 'Miller's garden'. A few exceptions here and there, this one was much easier than 'Cathy's Flowerhouse', for sure! I wish I started with this one ;-).
For this kit, I made an expanded walkthrough video on my Youtube channel. People tend to ask me a lot of questions about these kits, so I am planning on always filming the procedure from now on.
Check out the 7 best DIY miniature kits here on the market.
5. Cutebee
One word: CUTE! They really put the right name on their products! ( I have written a more recent, very expanded review about Cutebee, by the way ;-)) .
At Cutebee they have:
– The usual 'room boxes', meaning: square dollhouse miniature kits like Robotime has (look at this gorgeous "Rose garden tea house" and "Coffeehouse". Both in scale 1:24, made from wood, paper, fabric, and metal. Suitable for ages older than 8.
Batteries and glue are not included. It is impossible to mention the sizes, because each miniature kit has different sizes, mostly around 20 cms.
But ALSO:
– Bigger dollhouse kits with multiple 'layers', added bedrooms, etc. These are larger, not all the same sizes either, but the length is around 30 cm and 15 cm deep.
No glue, paint, or batteries are included. Instructions are included. Scale 1:24. Same material ass the smaller miniature kits and age also above 8 years old.
AND
– Tiny, metal boxes with different scenes. Size : each box is 8,4 cm x 14,3 cm x 2,6 cm deep. Age above 8 years old.
Material: wood, fabric, paper, resin, plastic, metal. English manual included. No glue or batteries are included. Cute little bunnies are included.
ALSO
– very original: very small scenes, crafted in nutshells!
You can see the size in one of these pictures. They are packed in small plastic see-through bags. You can either open or close the 'seeds' (they call them seeds, but they look like nutshells to me, no ? ).
And last but NOT LEAST:
– rotating music boxes

Don't you just love this design? They rotate AND make music like music boxes! They are covered with a glass dome, so no dust can reach them. Scale 1:24. English manual and furniture included. Above 8 years old. Glue and batteries have to be provided by yourself.
Check out the 7 best DIY miniature kits here on the market.
6. Unihobby
Seems to sell 2 different dollhouse kits, I will let you decide for yourself if you like these or not 😉 (not my thing honestly).
They look very 'modern' and 'cold' to me. Plus not enough furniture, a dollhouse should be 'packed' from bottom to top for me.
What do you think? Especially because also these are 1:24 and it is hard to find or build extra stuff for those dollhouses on that particular scale.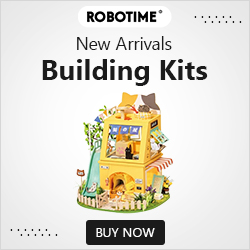 7. Flever
Check out the 7 best DIY miniature kits here on the market.
I can not find a site as well for this brand? Just a few kits on amazon.
Flever seems suitable for people over 14 years old, so it's probably more complicated than previous brands.
I can see why the above age 14 years is higher though, this house, for example, is a lot bigger and has a lot more furniture to be assembled.
The color pink and blue looks more for young teenagers to me than for adults (old women like me haha), but maybe you can definitely get one of these for your kids!
Because I think these are actually made to play with, not just put together.
The size of this one is also much larger: 19*15*14 inches. Again: batteries and glue are not included, but the instruction manual should be there.
8. Rylai
No website of their own is to be found either. Just about 15 pieces on Amazon.
Rylai describes their kits ass 3D puzzles. Why I do not know, because they don't look like 3D puzzles. (I have made some real 3D puzzles before, that's another hobby of mine 😉 ). You just have to glue the pieces together like the others.
Check out the 7 best DIY miniature kits here on the market.
No glue or batteries are included. To be assembled for ages 14 years and up. I can not find the scale, but I presume they are also 1:24 scale.
I prefer these over Unihobby, because they are much more detailed, which I find important in the miniature- world!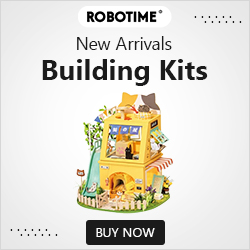 9. Tac Store
I could only find 1 house from 'Tac Store', which seems like a general store to me. It looks pretty though.
Material: Wood, Cloth, Plastic, Paper, Fabric, harmless to your family. Dust cover, button cells, and glue are not included. Recommended age:10+
Check out the 7 best DIY miniature kits here on the market.
10. Hongda and Hoomeda
For these brands, I also have written an extended review and oversight of their miniature kits. In my opinion, these are pretty fantastic, especially if you love oriental architecture.
11. Miniature kits on Etsy!
Last, but surely not least: there are hundreds, maybe thousands of dollhouse miniature kits on Etsy. The brands mentioned here in this blog post, but also lots of DIY kits (lots of them are laser-cut wooden dollhouse kits)
As you can see in my miniature kits category, they go from fairy-garden kits, to book nooks, Victorian dollhouse kits and so much more!
Have a look at their website below!
Final Conclusion
Check out the 7 best DIY miniature kits here on the market.
As an adult, I prefer miniature kits that are heavily detailed and need lots and lots of work. So that every time people are looking at a scene, they are surprised by the number of miniatures there are to be seen in your dollhouse.
But if you buy a dollhouse miniature kit for your children, the miniature kits for over 8 years old will probably be enough for you. Probably some of these dollhouses, you can have your kids play with, but most of them are not meant for that.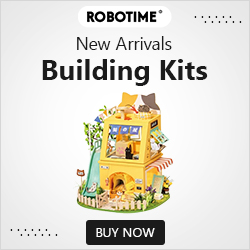 Would you like something 'more for boys', how about the Robotime model building kits for you then?
Whatever you choose, I wish you a happy dollhouse and miniatures crafting! Do you have any questions or would you like to share your story or even projects, feel free to leave a comment below or join me on my newest Facebook group!
Best regards,
Lizzy
PS: in the meantime, I have made 2 different miniature dollhouse kits, check out my reviews here and here.