Book nooks are still trending in the mini-world and so are book nook kits, as many big brands like Robotime found out, seeing them participating in the hype with their new products haha 😉
I have recently received and completed another one from Katnook, with a Halloween theme, and I can recommend her for sure.
(While you are on my Youtube channel, pretty please subscribe to it? Thank you! )

Anyway, there are lots more book nook kits coming out on the market nowadays, so let's dive deeper into them once more with these 9 reviews!
( I left out the ones that have very bad reviews, so I wouldn't bother with those )
A Quick Overview If You Are In A Hurry!
9 New book nook kits: extensive reviews
1. Krafty Wood Creations

This is an Etsy store that sells different laser cut book nook kits, a haunted house kit, and a few other things.
My personal favorites are the Hogwarts Express train kit and the Diagon Alley kit.

Brand
Krafty Wood Creations
Scale
The assembled dimensions of the train kit:
Height 290mm
Width 135mm
Depth 203mm

For the other book nook kits, you would need to
check out the descriptions first.
I believe that the scale used here is about 1:24

Pro's

– The store is a star-seller, which means that
it has a history of great customer service and
fast shipping
– These book nook kits are quite sturdy because
they are laser cut
– Beautiful designs, in my opinion
– you can paint/decorate them in any way that you like
– free shipping costs

Contra's

– the train platform book nook is a bit more complicated
to assemble
– unless I'm mistaken, I don't see any lights included
Our Ratings
5/5
Hours to Make
That depends on the book nook that you are working
on, one takes longer than the other.
2. The Eternal Bookstore
I haven't talked much about miniature kits from Cutebee yet, but I'm under the impression that they are getting better and better with their products.
The design of this book nook called Eternal Bookstore looks quite fantastic if you ask me, I love the choice of warm colors.
Brand
Cutebee
Scale
I would estimate this to be on a scale of 1:24

Pro's

– Great instructions with pictures
– This one has a stunning design!
– The battery box is well hidden
– Easily build
– no need to paint anything

Contra's

– No glue or batteries included
– a few parts aren't very sturdy
– the manual is in broken English
– you need to have a good look at the pictures
before assembling to not get confusion
Our Ratings
4,5/5
Hours to Make
About 5-6 hours

(you can compare prices with)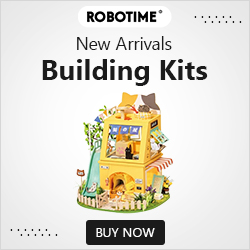 3. Sunshine Town
This one from Robotime is a design that I personally like a bit less, but that's a matter of personal taste 😉
I'm sure that the materials used are sturdy though, as always with the miniature kits from Robotime
Brand
Robotime/Rolife
Scale
1:24 (estimated)

Pro's

– Well illustrated with lots of details
– Very good instructions ( I always tend to find
the manuals better than the ones from Cutebee)
– sturdy parts
– easy assembling

Contra's

– The wiring is weird
– lots of pieces don't fit together nicely
– lots of painting for this one
Our Ratings
4,5/5
Hours to Make
5 to 6 hours
( you can compare prices)
4. Calvin and Hobbes
This book nook was inspired by the Calvin & Hobbes comic strip.
It features the scene where Calvin and Hobbes cross a log as they explore the woods near Calvin's home.
You can place this book nook between the comic books on a shelf, but the outside is also decorated with imagery from the comic strip. So you don't need to necessarily place it between books.
This book nook kit is unpainted, so you need to do that yourself.

Brand
Hemispheres co
Scale
about 1:24 (not sure)
Measurements:
– Width: 5 7/16 inches
– Height: 8 11/16 inches
– Depth: 5 1/4 inches

Pro's

– Very Original and unique design, you won't
find a Calvin and Hobbes kit anywhere else
– easy-to-follow instructions
– great quality and laser cut

Contra's

– a little bit more on the expensive side

Our Ratings
4,5/5
Hours to Make
This is not mentioned
5. Sakura Densya
This one book nook kit I noticed this one a while ago and it is one of the new arrivals from Robotime that is on my to-do list. I think it's a lovely and very creative design!
Although I am a little bit scared of all the flowers haha!
Brand
Robotime aka Rolife
Scale
About 1:24

Pro's

– easy to assemble
– very detailed
– great quality product
– the lights are easy to fix in this one
– lovely design

Contra's

– Lots of painting to do (can be good for you)
– the translation of the manual into English
could be better
– sometimes pieces are not fitting well
Our Ratings
4,5/5
Hours to Make
Unpainted for about 6 hours, painting it as well
takes about 18 hours.
6. A Japanese store

This Japanese book nook kit seems to be initially from a store named Buladle, but I haven't seen or heard about this brand before.
I think it must be rather new, correct me if I'm wrong.
Although it looks cute, it doesn't have many reviews yet, so this one might get expanded in time.
Brand
Buladle
Scale
1:24
Measurements:
7.16 x 9.64 x 3.15 inches

Pro's

– Instructions are easy to follow
– great quality and colors
– very sturdy
– fantastic lights working with a sensor
– the pieces fit together perfectly


Contra's

– Glue is not always included
Our Ratings
5/5
Hours to Make
2 to 3 hours only
7. Little Mermaid

If you want something special and unique, this little mermaid book nook must be on your list;-)
Just let the pictures speak for themselves!

Brand
Hemispheres Co
Scale
1: 24
Measurements:
– Width: 4 3/4 inches
– Height: 9 1/4 inches
– Depth: 6 5/8 inches

Pro's

– Very unique book nook kit!
– well designed
– clear directions
– great customer service
– well packaged so that nothing would break

Contra's

– I don't see any shipping or returning services.
Our Ratings
5/5
Hours to Make
Unclear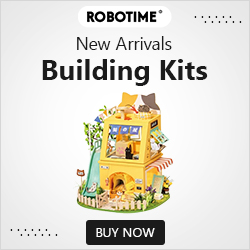 8. Butterfly of Unknown Lands.

This book nook kit has plenty of butterflies for you to enjoy, and it is "light" (not literally) and would make a great decoration piece on your bookshelf.
Its style is Chinese.

Brand
Cutebee
Scale
1:24
10.8 x 4.5 x 6.8 inches

Pro's

– Good quality
– Cute design
– lots of details

Contra's

– This Cutebee kit seems to have some
issues with missing parts
– instructions aren't too clear, not for beginners
Our Ratings
4,5/5
Hours to Make
about 6 hours
9. Pirate Ship Sea Hunter
A book nook kit that isn't seen much on Facebook groups or apparently not sold a lot, so it is a bit harder to review.
Have you seen this pirate ship?

Brand
Furmidore
Scale
1:24
Measurements:
– Width: 5.3 inches
– Height: 9.6 inches
– Depth: 7 inches

Pro's

– This kit looks like a fun design for a childrens'
room, for example
– Sturdy materials
– top shop for gifts, gets mostly 5-star reviews

Contra's

– This store doesn't accept returns and exchanges
– not enough reviews yet to get a good opinion on it
Our Ratings
5/5
Hours to Make
Unavailable
My Final Conclusion.
I hope that you enjoyed this blog post on nine new book nook kits on the market!
If you have any more questions or want to chat, please leave a comment below in the comment section or join me on my social media channels or Facebook group.
I wish you happy crafting!
Kind regards,
Lizzy